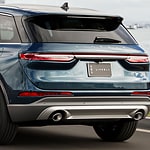 The 2022 Lincoln Corsair is a luxury vehicle that's built to handle whatever you throw at it. With a number of capability features, this vehicle is equipped to handle multiple environments and multiple terrains.
The 2022 Lincoln Corsair comes with dual-zone automatic climate control, which makes any temperature during any season easier to bear. The plug-in hybrid model is equipped with the ability to travel over 28 miles using only electricity. It'll also help you save money on fuel over time with its combined MPG of 33.
We are also big fans of the 2022 Lincoln Corsair's all-wheel drive and drivetrain output of 266 horsepower. This is one compact luxury SUV that can hold its own no matter where you drive it. The "Excite" drive mode is another welcome addition to the vehicle. It makes the suspension a bit more versatile on rough roads.