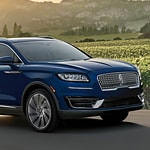 One of the top SUVs for 2020 is the Lincoln Nautilus, and here is why. This wonderful vehicle falls under the crossover category, and it definitely lives up to the hype. Innovative technologies, exceptional comfort features and a primed engine can all be enjoyed after making a purchase.
The new Lincoln Nautilus has 21st century styling. This vehicle just so happens to be one of the most modern-looking SUVs of the near year. The Nautilus has a striking silhouette that exhibits a timeless elegance. The LED lighting is exceptionally designed and is exceptionally illuminating. The fog lights appear to be masterfully crafted right into the frame with precision. Dark molding perfectly frames the bottom side of the SUV, which greatly contrasts the vehicle's exterior paint. There are even foldable-sideview mirrors.
Would you like to test drive the new Nautilus? If so, then simply visit our showroom.