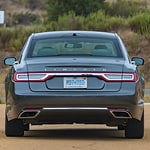 The Lincoln Continental is back, and it's better than ever. This luxury sedan comes in a full size, and it hosts an abundance of premium features. Consumers can expect some of the best next-level technologies as well as plenty of advanced safety features. Let's dive into how this sedan performs.
The 2020 Lincoln Continental comes equipped with a 3.0-liter engine that's hyper responsive. This particular V6 is turbocharged to perfection and generates up to 400 horsepower. Pound-feet of torque is also measured at 400. When it comes to road grip, this large sedan operates like nonother in its class. The available all-wheel drive system works wonders by providing copious amounts of traction. When traction is lost, the Intelligent all-wheel drive system will provide the right amount of power to the wheels to regain control.
This only scratches the surface, and this is why you should visit our location for a test drive.